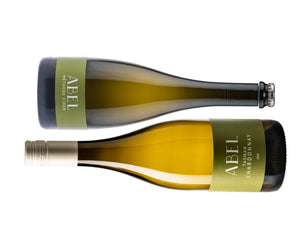 TASTE ABEL
Here's a quick and easy option to sample ABEL.
***New Zealand only***
We will send you one bottle of each of our current releases so you can taste and discover us and what we're making here in the beautiful Moutere Valley. 
Our tasting pack is also a great gift idea for someone special.
Current Tasting Pack
1 x 2020 Abel Tasman Chardonnay 750ml
1 x 2020 Abel Methode Cider 330ml
1 x NV Abel Methode Cider 330ml
1 x 2018 Abel Methode Cider 500ml
Only $85 including delivery nationwide.
What people are saying about ABEL...

Joelle Thomson, Drinkzbiz: Abel Tasman Chardonnay 2020 - Abel Chardonnay tastes like it should cost a whole lot more.  It comes from <Tasman>, which is famous for flinty, fresh, full-bodied Chardonnays from the Moutere Hills, where sunny slopes and rich clay soilds add ripeness and depth to wines.  Abel is a family-owned winery, owned by a family with a long winemaking history, a passion for great whites and who bring decades of experience to bear in this deliciously succulent wine, which offers superlative value for money.
Metro Top 50 Wines 2023: Abel Tasman Chardonnay 2020 - This is a focused, fruit-forward, fresh chardonnay with apple, floral, peach, lemon - even graphite notes.  It's sometimes tricky to remember that this is the variety that people associate with toasty oak and buttery lemons, especially if you're used to tasting fuller, more oaky and buttery examples of the variety.  The panel hopes that more chardonnays will be made like this - minimal oak and in more of a fruit-driven style, makign a wine that's fresh, with driving acidity, textured and balanced...
Michael Cooper, Listener: Abel Tasman Chardonnay 2020 - From mature vines in the Upper Moutere, this distinctive wine was fermented and aged in large French oak vats, rather than small barrels.  Light lemon/green, it has fresh, vibrant, searching flavours, citrusy and slightly appley, with a restrained oak influence and racy acidity.  A distinctive, energetic wine, it's well worth discovering.
Cameron Douglas, Master Sommelier: Abel Tasman Chardonnay 2019 - Complex, flinty, fresh wood spice and ripe white orchard fruits laced with grapefruit, lees residue scents and a vibrant youthful, lactic new yoghurt appeal.  On the palate - delicious, fresh, highly textured and dry.  Flavours of citrus then tree fruit followed by white stone fruit.  A grapefruit flesh and pith attribute is strong leads the core flavour and into a lengthy finish.  Youthful and quite delicious, a lengthy finish.  Well made.  Great drinking from January 2021 through 2025.  Excellent.
Yvonne Lorkin, Wine Editor: Abel Tasman Chardonnay 2018 - Well I'll be darned.  Mark and Sophie McGill are proven gurus when it comes to making great quality cider.  That's their background, that's their strength.  They should stick with that right?  So why did they decide to segway from apples to grapes?  Who knows.  But I'm pleased they did because this debut is darn good.  There's a serious whack of citrus, roast nectarine, smoked peach notes and a lick of spice that combine with fresh acidity, balanced alcohol and a shed-tonne (technical term) of good old Nelson ripeness to create a darn lovely chardonnay.  Not much was made so get it while you can!
@davenash - I think when you genuinely make what you love, the result will always be great.  As you'll be your own harshest critic, down to every last detail.  @abelcider_wine (in my opinion) the producer of New Zealand's best cider has bottled their first Chardonnay and it's a delight.  A regional blend from the Nelson Tasman region, it's light delicate pale green-yellow in the glass.  Lovely reduction on the nose, very stately.  Torched lemon, vanilla brioche.  Vibrant limey acid, great texture, Chablisienne with a bit more weight.  Green apple, lemon, lime, spices.  Quincy tart long finish, lingering white tannin.  Skillfully made by Mark & Sophie McGill and Sophie's legendary old man James Healy, who conveniently knows a thing or two about world class Chardonnay.

Ben Franks Wine (UK) - Produced in small quantities from 80% apples and 20% pears, hand-picked, crushed and then fermented until dry.  The cider is unfined and unfiltered, preserving natural fruit.  Second fermentation happens in bottle, like Champagne.  Bone dry and full of lightning-fresh green apple, tangy pear and a crisp, refreshing finish.  I would say minerality as I'm struggling for another word for fresh.  This is so damn refreshing!
Be Well Magazine (NZ Herald) - If you start to feel a little sugared-out halfway through a glass of cider, Abel's Methode may be the drink for you.  Made from heritage varieties of apples (think green flavours) and pears, the cider is unfined, unfiltered and bottle fermented - bone-dry but refreshing.  Made in the Tasman region by Mark and Sophie McGill, who both have winemaking backgrounds, the pulp is pressed after fermentation, rather than before, to extract maximum flavour and aroma; the cider spending 12 months in the bottle before release.

Not Without You Wine Bar - We have a amazing new cider from Abel - it's a 500ml bottle with all the sophistication of a French champagne - you've never tasted a cider so dry - amazing!!  We are predicting global acclaim for this stunning beverage...

@dpad_dave - I'm a huge cider fan, a friend down Otago way put me onto your stuff. OMFG I love it. It's utterly perfect.  I can't wait to find somewhere I can buy it at retail in Auckland, was stoked they had it @depoteatery...it's gonna be my new regular.

@liu.icy - Delicious dry cider (fermented in bottle) post hike (took me 6 hours.  I can't feel my legs but it was so wonderful and so worth it!!)  Thank you for making this deliciousness!!!

Blackhearts & Sparrows - Cider of the week: 2016 Abel 'Methode' Cider: Abel Cider, crafted in Nelson, New Zealand, follows a thrillingly straightforward principle: to turn the region's best apples and pears into a world class cider. Sure, it's an ambitious approach, but by treating the product like a fine sparkling wine (read: gentle fruit handling, secondary bottle fermentation, unfined, unfiltered), they've crafted a drop that's bone dry, approachable and also compelling. Drink this alongside some of your favourite cheese.

@hopngrape - Best dry cider I have ever had.  A serious cider fermented on its skins with a interesting floral nose and a dry clean finish that will keep you looking for your glass.  Great for summer!

@sommsayhai - cider break after arriving in Nelson and exploring the city.  Thanks to Casa del Vino and Julianne for the friendly service and great hospitality!  The cider was crisp and refreshing with a nice line of acidity that brought a little funk.

Fine Wine Delivery Co - Abel Cider makers do one thing and they do it bloody well. They make Apple cider, fully fermented with skins, seeds and stems, with zero sugar, water or concentrate added, bottle fermented and aged just like Champagne. Trust us when we say there are very few other cider companies making a product this natural. This 6.5% cider smells like a cross between a dry white wine, and juicy apple, the palate is bone dry with racing acidity finishing very crisp.

@realciderreviews - Best International Cider of 2017: Abel Methode Cider - It may be cloudy, it may contain pears and the odd stork but this is all class.  Sophisticated yet edgy yet perfectly balanced.  Being from New Zealand, if this were any better it would go the way of Russell Crowe, Phar Lap, pavlova and claimed as Australian.

NZ Food Awards - Finalist Artisan Producer Category - source from local growers in the Tasman region, Abel NZ ferments appls and pear in the same way you would a red wine.  No water, concentrates, flavourings or artificial carbonates are added to ensure what's in the bottle fully represents it's origins.  Available in selected restaurants and luxury lodges.

@missyaabel - Bought for novelty value, actually the nicest cider I've ever tasted!

@5forests - Cider or Bubbles?  Mark the head-crusher at Abel Methode Cider says you can have both.  After standing around a wine barrel chatting about cider, wine, marketing and oysters I grabbed a bottle of this to take home.  Mark positions this cider as a low alcohol alternative to bubbles.  Most ciders have a fair amount of sugar left after fermentation.  This one is bone dry and really does come across as a brut style.  Using carefully selected Nelson apples and pears this is definitely hitting the sport after tidying up the garden.  Good work @abelcider!

@janeskiltonmw - Taking a break from #nzwine to try this Marlborough cider.  Pure and delicious.  Love the little squat bottle.  

Yvonne Lorkin, Wine Editor - Mark and Sophie McGill are on to their second successful vintage of their unique, champagne-style cider.  The Abel Methode Cider 2016 6.5% ABV 500ml has a cloudy hue and highly attractive aromas of bitter braeburn apples and white pepper.  On the palate it's an incredibly precise style, with spicy layers and cheek clicking acidity, finely tuned bubbles and excellent length of flavour. "We like to think of it as a low-alcohol alternative to sparkling wine" says Mark. "Our vision is to get cider out of the beer fridge and onto the wine lists of restaurants to be enjoyed with food".  Yes, Mr McGill, we concur.

@qtnutrition - busiest day ever at the clinic so rewarded myself with this new (to me at least) delicious, super dry (read: low sugar) cider.  Nothing like drinking on a Monday...Highly recommended > tastes like a cross between cider and champagne.

Kiaora Magazine - Made in the Tasman region, Abel Methode Cider is bottle-fermented, unfiltered and undeniably good.

Mary Tixier - The most amazing cider I've ever had...Not full of sugar and so subtle....Well done guys and thank you #farro for stocking this amazing cider!!! 

Jo Burzynska, Wine Editor - An impressive new Nelson cider that's fermented in bottle like a Champagne and crafted by a couple with a background in wine. Made from 20 per cent pears and 80 per cent (predominantly cider) apples, it's the most refined local cider I've tried to date, with crisp red apple fruit, nuances of jasmine and racy notes of citrus. One for wine lovers as well as cider fans.